Engineering Hall of Fame Inducts Mike Beckage
Seal Beach, CA – (2019) – Mike Beckage, co-founder and CTO of Diversified Technical Systems, has been inducted into the Cal Poly Pomona College of Engineering Hall of Fame. This prestigious honor recognizes outstanding accomplishments of distinguished engineers from the more than 25,000 alumni. Along with Beckage, nine other alumni were inducted in 2019.
Cal Poly Pomona's 'learn by doing' paradigm became an essential component for Beckage as he earned a BS in Engineering Technology and began his career as an electronics technician at Mobility Systems & Equipment Company.
"I truly learned how to identify a problem, propose a viable solution and then carry the concept forward to fruition in an effective way," he says. "Many of my classroom and lab experiences immediately made me a more valuable employee and led to an engineering position even before I graduated."
Soon after graduating, Beckage was promoted to senior test engineer. At Mobility Systems he was responsible for all aspects of data collection and analysis of automotive safety tests performed for the National Highway Traffic Safety Administration (NHTSA).
In 1988 he moved on to Nissan Motor Corporation, where he served as an engineering specialist and was responsible for analyzing and reporting on potential safety or emission issues and corresponding with NHTSA and the Environmental Protection Agency.
Looking for his next career move, Beckage co-founded Diversified Technical Systems (DTS) in 1990, a high-tech company that engineers and manufactures miniature data acquisition systems for crash test, blast protection and product testing. Today Fortune 500 companies rely on DTS data recorders and sensors for critical testing in automotive, aerospace, military, defense, sports and injury biomechanics. Headquartered in Seal Beach, California, DTS has over 100 employees and offices in Michigan, France, Japan, China, Asia-Pacific and the United Kingdom.
With a passion for teaching, inspiring, and making a difference, Beckage says he still enjoys going to work each day. He likes the people and work, and values the fact that DTS products help advance human safety all around the world.
Proud to be recognized as one of the distinguished engineers whose achievements inspire future generations of engineers, Beckage had this to say, "If you study diligently, work hard, persevere and pay supreme attention to detail in everything you do, your education will take you far."
DTS Co-Founders and CPP Alumni Share Their Success Story | Click on image above to watch the Cal Poly video shot at DTS headquarters featuring Mike and Tim.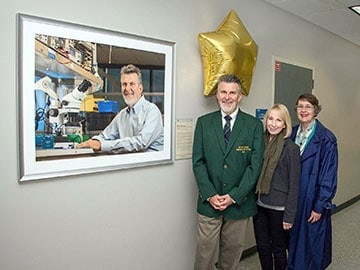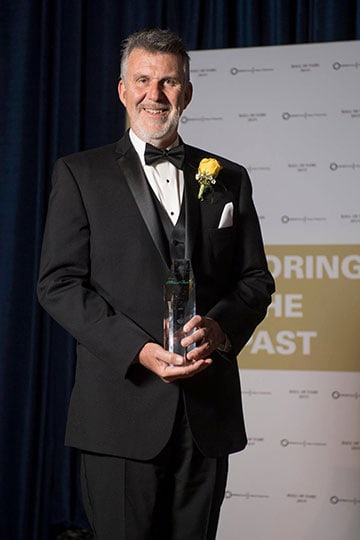 Mike Beckage proudly wears the traditional Cal Poly Pomona green jacket in front of his honorary Hall of Fame portrait on display in the Cal Poly Pomona Engineering building. Beckage is pictured with his wife Bridget Spanier-Beckage (center) and sister Donna Beckage (right).
Award inducting Mike Beckage into the Cal Poly Pomona College of Engineering Hall of Fame was presented March 20 at a black tie event at the Pacific Palms Resort.