DTS Receives Toyota Excellence Award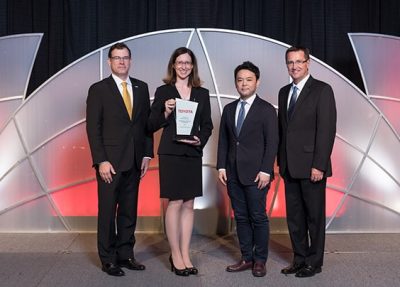 Lexington, KY (June. 2019) – DTS proudly accepted an "Excellence" Award in the Technical Category at the 2019 Toyota Indirect Supplier Annual Business Meeting in Lexington, KY. The award recognized the quality of DTS data acquisition systems that are reliably collecting critical test data after 20 years in service, in addition to DTS's improved communication practices and exceptional customer service. Each month DTS picks up and drops off Toyota R&D's DTS data acquisition equipment for calibration from the Saline, MI facility. The door-to-door service exemplifies DTS's commitment to excellence in customer service and helps Toyota keep testing schedules on track. DTS also revised the Service Contract invoicing schedule to align with the monthly calibrations and help Toyota finance. DTS looks forward continuing our collaborative partnership with Toyota at all of their facilities worldwide.
Pictured: Dawn Sup, Manager of DTS Michigan Technical Center, (2nd to L) accepts the DTS award from Toyota executives (L to R) Greg Laskey, Arata Ito and Jamie Todd.